As a law enforcement agency, called to serve the public, we continue to work on building trust with the people we serve.
We are committed to our Mission Statement:
"The Sioux County Sheriff's Office is committed to maintaining the public's trust, providing protection, and professional leadership, by utilizing our skills and resources with integrity."
Sioux County is located in northwest Iowa with a population of 34,900 (2020). The Sheriff's Office patrols the 769 square miles of the county and is the chief law enforcement agency for the cities of Hull, Boyden, Matlock, Hospers, Granville, Maurice and Chatsworth; the non-incorporated villages of Middleburg, Newkirk, Carmel, Lebanon and all other unincorporated areas of Sioux County.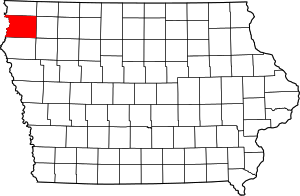 The Sioux County Communications Center provides 24 hour dispatching of Law Enforcement, Fire and EMS Services within Sioux County and handles an average of 16,000 calls for service a year. A monthly breakdown of those calls is published on our News & Records page and then clicking on "Statistics"
The people who work at the Sioux County Sheriff's Office are your friends, neighbors, and relatives - we are a part of your community. With your support; we pledge to provide you with the highest quality public safety service, made possible through relationships, training and professionalism, 24 hours a day-each year.
          Sheriff Jamie Van Voorst
     17th Sioux County Sheriff                                                 
Latest news & Announcements
Burglary is the most common threat to our homes. Somewhere in the U.S., there's a home burglary committed every 13-15 seconds. A burglary can have a major impact on your family's sense of safety and well-being and can cause you to lose more than a few possessions. There are many things you can do to … Read more
Read More